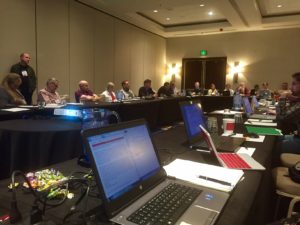 Annapolis, MD: Josh Groeneveld and Kasey Hansen (UGIC Board Members)

The National States Geographic Information Council (NSGIC) held its Midyear Meeting in Annapolis, MD from February 27th – March 2nd.  Representatives from 27 states and the District of Columbia were in attendance to collaborate, share best practices and learn about the latest geospatial advancements, particularly in the federal space.  
NSGIC promotes the philosophy of "make it once, use it a bunch".  There is so much value to all involved in terms of time and effort saved if we can share existing solutions and best practices.  When we have to explain what GIS is to a non-professional, we often hear things like, "Hasn't everything already been mapped?"  
Not at all!  It was apparent at the Midyear Meeting that there are still challenges creating data in a timely fashion and sharing it with stakeholders across all levels of government. Many national data programs have been implemented for the purpose of addressing these challenges. For first-timers at NSGIC, the sheer number of programs can feel a little overwhelming (not to mention the abundance of federal acronyms!), however the purpose and goal of each program was discussed thoroughly at the meeting.  Even so, while many GIS professionals may be willing to share data, some are under legal constraints to not share data because of privacy concerns.  There are also concerns of some "shared" datasets where the authoritative agency can submit their data into a database and then never see the resulting product.  Some of the hot-button topics at the meeting were Next-Generation 911, the USGS 3D Elevation Program (3DEP), open data, and the GIS Inventory.