The UGIC Board is made up of elected volunteers who serve a 3 year term representing city, county, state, federal, higher education, industry, and 'at large' user groups.
---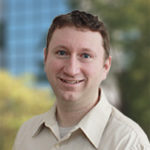 Kasey Hansen

Contact Info:
Gateway Mapping, INC, 466 N 900 W, Kaysville, UT, 84037, (801) 547-0393
UGIC Position:
Director
Representing:
 Industry
Primary Sector:
 Industry

UGIC Board Member Thru:
2026
Bio: Kasey's background in mapping and GIS really began when he was very young—he has been making maps as long as he can remember. He grew up drawing maps of his neighborhood, his school, and camping and vacation routes. In high school, he decided he wanted to create maps for a living and has never looked back. After high school, he enrolled at BYU to specifically study cartography and GIS, and graduated with a master's degree in 2001. During Grad School he was hired by Gateway Mapping where he is still employed today and currently serves as the General Manager for the company.
Over the years Kasey has had the opportunity to gain experience in a wide variety of GIS applications, from web mapping to GIS analysis to data collection to computer programming. In particular, he enjoys teaching GIS concepts, and has had the opportunity to provide onsite training to many cities, counties, and other organizations in Utah and other western states to help them further their GIS efforts. Kasey has served on the UGIC Board since 2013, and has had the opportunity to teach workshops during past UGIC conferences where he has been able to get to know many GIS users around the state. When not at work, his favorite activities still have a tie to geography. Kasey enjoys taking his family hiking, camping, geocaching, and exploring around in general.
---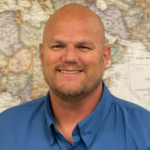 Jordan Merrell
Contact Info:
Uintah County, (435) 781-5460
UGIC Position:
Director
Representing:
At-Large
Primary Sector:
County

UGIC Board Member Thru:
2026
Bio:
J
ordan Merrell is the GIS Data Administrator for Uintah County and has been actively working in the GIS world for more than 24 years. He has been a UGIC member since 2000. He graduated from USU,(the school with the best ICE CREAM), with a bachelor's in geography.
After Graduating from USU he had a short stint at Tooele County GIS. Then while attending UGIC 2000(Moab), he was poached from Tooele by Uintah County to create a GIS department, and he has been there ever since.
When he is not saving time and money for the County, he is out on an adventure finding hidden natural gems and exploring, hiking, fishing, and always getting in trouble by asking "Where does this go" and "What does this do".
---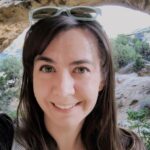 Sarah Lindsey

Contact Info:
Department of Natural Resources in the Division of Wildlife Resources. 1594 W North Temple, Salt Lake City, UT 84116 (801) 538-4759
UGIC Position:
Director
Representing:
 State
Primary Sector:
 State

UGIC Board Member Thru:
2026
Bio: Sarah Lindsey is a Utah native who loves using maps to explore the diversity and natural beauty of our state. She graduated from the University of Utah with a B.S. in Geography and a certificate in GIS. Sarah has worked for the Utah Division of Wildlife Resources (UDWR) for 17 years as a Senior GIS Analyst and as the Data Manager for the Utah Natural Heritage Program. Her work focuses on using geospatial technology to track the distribution of species of greatest conservation need, ensuring this crucial information reaches decision makers in order to protect threatened and endangered species, inform conservation actions, and sustain Utah's wildlife biodiversity for years to come. Sarah also collaborates with UDWR's Law Enforcement section using GIS applications to streamline investigation workflows and improve reporting processes for the public. Sarah works to integrate geospatial technology into these critical areas to ensure a more efficient and effective approach to safeguarding Utah's natural resources.
---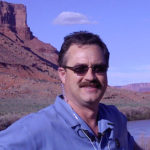 Dave Henrie

Contact Info:
Utah County GIS, 100 E Center St , Provo, UT 84606 , (801) 851-8327
UGIC Position:
Co-Conference Chair
Representing:
 County
Primary Sector:
 County

UGIC Board Member Thru:
2025
Bio: Dave Henrie graduated from high school in Mt Pleasant, MI. He received a BS in Geography from BYU, after which, he also got his MPA from the same institution. He has worked in the GIS field for Utah County Government for the last 30+ years. He is currently working in the IT Department, where he develops applications for Internet Mapping. Dave has been involved with UGIC for many years.
---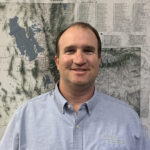 Stan McShinsky

Contact Info:
445 W Center St, Provo, UT, 84601, (801) 852-6561
UGIC Position:
Director
Representing:
 At-Large
Primary Sector:
City

UGIC Board Member Thru:
2025
Bio: Stan McShinsky is a skilled GIS Web Developer at Provo City, where he combines his passion for mapping with his knack for web development. With a creative flair, Stan enjoys constructing intriguing maps that resemble puzzles, augmented reality sandboxes, mazes, and captivating map art. Currently, he focuses on developing web applications for diverse projects within the city.
In addition to his GIS expertise, Stan holds a certification as a drone pilot, showcasing his commitment to exploring innovative technologies in the field. Beyond his professional pursuits, Stan finds joy in playing pickleball and even serves as a certified referee in the sport. Having graduated from BYU, he brings a strong educational foundation to his work.
During his leisure time, Stan can be found engaging in a range of activities, from playing softball and embarking on geocaching adventures to indulging in his love for pickleball and embarking on thrilling rides with his 4-wheelers. Stan's multifaceted interests and dedication to his craft make him an exceptional GIS professional with a zest for exploration both on and off the map.
---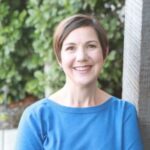 Kate Smith

Contact Info:
Lehi, UT (801) 381-3558
UGIC Position:
Treasurer
Representing:
At-Large
Primary Sector:
State

UGIC Board Member Thru:
2025
Bio: Kate is passionate about the intersection of GIS analysis and emergency management/emergency response. She works as a Hazard Mitigation Planner at IEM, using GIS to identify areas most at risk to natural hazards and develop strategies to reduce risk to communities. Previously, she worked for Salt Lake County Emergency Management as an Emergency Management/GIS Specialist. She has also been an adjunct instructor in Spatial Analysis at Salt Lake Community College. In 2013, she helped establish the Utah Mapping Emergency Technical Team (UMETT), a UGIC committee focused on best practices for GIS support for emergency response, and currently serves on the UMETT Coordinating Board. Kate has geography degrees from BYU and University of Utah. She enjoys road trips, backpacking, hiking, cycling, music, and when it's too cold outside; quilting.
---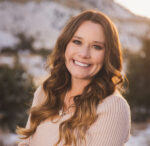 Mellissa Campbell
Contact Info:
Carbon County, 751 E 100 N, Price, UT 84501 (435) 636-3775
UGIC Position:
  Chair
Representing:
 At-Large
Primary Sector:
 County

UGIC Board Member Thru:
2024
Bio: Mellissa Campbell is a GIS Specialist for Carbon County where she has taken on all aspects of GIS for the county. She currently is the addressing authority for the county and helps create and maintain NG911 compliant addresses. She was the GIS Administrator for Springville City from June 2020 – October 2021 until she decided to return to her roots to be closer to her family. During her time at Springville, she was responsible for maintaining the GIS records for all of the departments in the city, managed the asset management system (Novotx – Elements), and developed desktop and web based applications to expose GIS and related databases to end users in support of their job functions. She was the Utility Planner for Springville City Power Department from November 2018 – June 2020. She helped assist the electric Superintendent in preparing preliminary primary power plans and cost estimates of electrical distribution projects for customers, government agencies, and developers. She also maintained GIS records for all equipment located on poles and underground installation and was responsible for building and maintaining existing street light inventory maps and data. She was GIS Specialist at Carbon County from 2008-2018. She earned her Bachelor of Science in Biology/Zoology with a minor in Marketing at Southern Utah University in 2007. In 2008 she completed her Certificate in GIS at Southern Utah University. She received her GISP in 2013. Before coming to Carbon County she did an internship for Fishlake National Forest and was responsible for creating a GIS based database of gathered bird monitoring data for 2005-2007 from the Fillmore and Beaver Ranger Districts. She also provided data summaries, map output and a program that provided the ability to make annual updates to the database with the ability to query the accumulating data. At Carbon County, Mellissa was responsible for collecting and updating data, data summary and map outputs. She helped create the interactive map and was responsible for maintaining it. Mellissa helped implement customized maps for Garmin GPS units and had been working towards implementing maps for mobile devices. She is also the Chair of the Canyon Country Partnership (CCP) user group. She was featured in ArcNews for her work using Spike GPS and her incredible ROI for her work in their road sign program.
---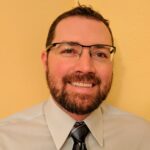 Chris McGinty
Contact Info: 
USU Remote Sensing/GIS Laboratory, 5275 Old Main Hill, Utah State University, Logan, UT, 84322, (435) 797-0653
UGIC Position:
Vice-Chair
Representing:
 Higher Education
Primary Sector:
 Higher Education

UGIC Board Member Thru:
2024
Bio: Chris McGinty is the associate director of the Remote Sensing/GIS Laboratory at Utah State University. He has spent more than 15 years using geospatial technology in both private and academic settings. As a student when command line was still the best way to conduct geospatial analysis, Chris had the opportunity to observe and take part in the paradigm shift in the way we teach and use geospatial tools. Throughout Chris' time at Utah State University, he has had the opportunity to engage hundreds of students in Introduction to Geographic Information Science as well as Advanced Geographic Information Systems courses he has taught. As many know, teaching these rapidly evolving courses can be very challenging, but above the challenge, extremely rewarding. Chris will bring a great level of enthusiasm and excitement to the position and would look forward to supporting UGIC in its efforts to further and promote the teaching and use of geospatial technologies as well as enhancing the connection and participation of Utah's K-12 schools and high education institutions.
---

Phoebe McNeally
Contact Info: University of Utah DIGIT Lab, 675 Arapeen Dr Rm 121, SLC, UT 84132, (801) 585-9133
UGIC Position: Associate Director
Representing: Higher Education
Primary Sector: Higher Education
UGIC Board Member Thru: Appointed
Bio: Phoebe McNeally is a Research Associate Professor of Geography at the University of Utah and the Director of the DIGIT (Digitally Integrated Geographic Information Technology) Lab. She has a B.S. in Survey Engineering from the University of Maine at Orono and M.S and Ph.D. degrees from the University of Utah in Geography. Phoebe is involved in a wide range of GIS projects from developing the GIS capabilities of the Salt Lake Cooperative County Plan to supporting invasive species mapping and mitigation efforts in southern Utah to providing mapping solutions for defense applications. These projects include local, national and international GIS work. In addition, her research interests include geographic information science, geographic visualization, spatial database design, and spatial decision support systems.
---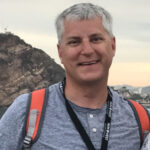 Shawn Beecher
Contact Info:
40 S Main St Spanish Fork, UT 84660, Office:  801-804-4571
UGIC Position:
Co-Conference Chair
Representing:
 City
Primary Sector:
 City

UGIC Board Member Thru:
2024
Bio:  Shawn is the GIS Administrator for Spanish Fork City taking the GIS there from humble beginnings to a massive program everyone uses.  Done through building an enterprise GIS and Databases, incorporating field collection, dashboards, online maps/apps, asset management (using GIS), starting utility networks, ArcGIS QuickCapture and incorporating as many ESRI GIS tools as he could.
He graduated from BYU with a B.S. in GIS and Cartography in 1998.  He's had various GIS experiences, including working as a mapping intern at BYU, an intern for the City of Springfield, MO, a GIS Specialist for an Engineering Firm in Kansas City, MO, and a GIS Specialist II in Logan, UT until he landed in Spanish Fork in 2003.  He received his GISP in 2011, has presented at UVGIS, UGIC, ESRI SWUC, and ESRI UC, and published an article in the Fall 2018 ArcNews. He has served on the UVGIS and UGIC Boards, and is a proud member of UMETT.
He is a strong advocate of GIS, and his motto at work is "If you build it, they will come."  He loves seeing the excitement in others as GIS improves their lives through the tools we build.  He is excited to serve the members of UGIC.  When he is not at work, he enjoys spending time with family, canoeing, fishing, swimming, camping, boating, being on a beach, exploring Utah's wonders, and just being outside.
---
---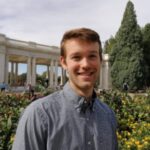 Will Delany
Contact Info:
ESRI, 167 S Taylor Ave, #110,  Louisville, CO 80027, (385) 258-4646
UGIC Position:
 Associate Director
Representing:
 Esri, Industry
Primary Sector:
State
UGIC Board Member Thru:
 Appointed
Bio: Will DeLany is a Solution Engineer at Esri supporting State and Local Governments in the four corners and Wyoming. Will received a Bachelor of Arts in Geography and a Master of Science in GIS from the University of Denver. Will is based in Salt Lake City, and in his free time enjoys skiing, climbing, and running in the Wasatch Mountains.
---
Jacob Adams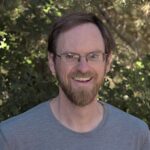 Contact Info:
UGRC, 4315 South 2700 West, Taylorsville, UT 84129, 801-538-366
UGIC Position:
 Associate Director
Representing:
UGRC, State
Primary Sector:
 State
UGIC Board Member Thru:
 Appointed
Bio: Jacob Adams is a programmer, problem solver, and cartographer at UGRC and believes that open access to GIS data benefits everyone. He's done GIS in a wide variety of settings, starting out at Cache County, then moving to Taylorsville City before finally landing at UGRC. Recently, he's dabbled in academia as an adjunct GIS professor at BYU. He holds a Bachelors degree in Geography from BYU and a Masters of Urban and Regional Planning in Portland, where he learned to keep it weird. Maps have always been fascinating to Jacob, whether it was his grandpa's collection of old USGS topos or the data displays in the classic SimCity games. Jacob especially loves exploring and playing around with terrain data, coming up with new ways of displaying the amazing landforms of the world around us. When he's not geeking out over maps, he loves to ride his bike up gorgeous (and steep!) mountain roads. He also explores his creative side through woodworking, enjoying the tactile process and results.
---
View Past Board Members