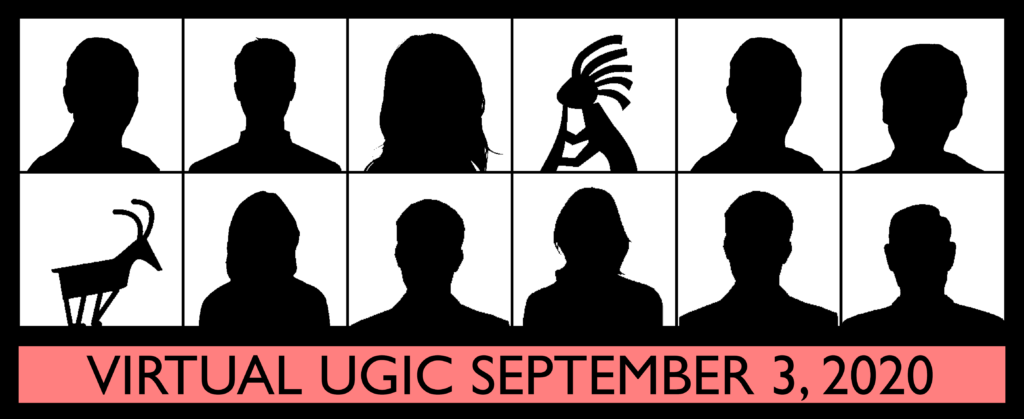 As you are all aware, UGIC's annual conference has been affected by the COVID-19 pandemic, like so many other things in all of our lives. Two months ago, as the pandemic began, the UGIC Board was hopeful that suspending the conference until the Fall would buy us enough time to still hold a meaningful event. Since that decision, we have watched as closures and restrictions continue to be extended. While things are looking positive in Utah and plans for reopening are slowly underway, it is apparent that large events such as UGIC will be among the last to be permitted to restart. The safety of our attendees remains our number one priority, and therefore, we have made the decision to cancel UGIC's annual conference for 2020.
We are very saddened by this decision because as a community, we all love and enjoy the conference. While it is a tough decision to make, we feel it is the right decision to make. That said, we do have some good news! The UGIC Board has decided to hold a virtual event September 3rd. While this is certainly not a replacement for the conference itself, we hope to make it a fun and valuable experience for those who attend.  There will be no cost to attend the virtual event (all conference registrations will be refunded), and we will send out more details about it as our plans come together.
We've put together the following Q&A to provide some more details about these changes:
So the conference is cancelled – what do I need to do now?

You don't need to do anything at this point.  We will cancel all registrations, whether or not you indicated if you were planning to attend the rescheduled conference.
I've already paid for the conference. How will my registration fees be refunded?

If you paid via credit card, your registration fee will be refunded via PayPal to the credit card with which you paid. This should happen in the next couple of weeks.
If you paid via check, go ahead and cancel the check. UGIC has not cashed any checks and will destroy any checks that we have received so far.
Is there a cost for the virtual meeting? Are my conference registration fees rolling over to that?

No. There is no cost for the virtual meeting.  All conference registration fees will be refunded to all attendees.
What about my hotel reservations? Do I need to cancel them somehow?

No. We will contact Ruby's Inn, and all hotel reservations will automatically be cancelled. You should receive a cancellation notice from Ruby's Inn in the next week or so.
That said, if you don't get a cancellation notice in the next 2 weeks, you should probably call Ruby's Inn and make sure the reservation is cancelled.
Tell me more about the virtual event. How many days will it last? Will I have to register for it?

UGIC's 2020 virtual conference will take place on Wednesday, September 2nd and Thursday September 3rd , 2020.

Most breakout sessions will be pre-recorded and will be made available to view at your leisure.
The Plenary Session and a few other sessions (including panels and technical Q&A sessions) will be held live via video conference.

Wednesday, September 2nd:

All pre-recorded breakout sessions will be made available online.

Thursday, September 3rd:

The Plenary Session will be held in the morning, and other live sessions (including panels and technical Q&A sessions) will be held throughout the rest of the day.
Online pre-recorded sessions will remain available on Thursday and after the conference ends.

Specific times for live sessions will be released closer to the conference.
I signed up to present at the conference. Can I give my presentation at the virtual event?

If you are interested in presenting a breakout session:

Please contact Mellissa Campbell (mcampbell@springville.org) and let her know you would like to present.
Record your session using the video software of your choice, keeping in mind the following requirements:

The maximum length of the recording should be 30 minutes. Please coordinate with Mellissa if you would like your presentation to be longer.
Ensure that your microphone is capturing your voice well.
Title the video file with the presentation title and presenter's name.
Use the following specifications when recording:

Video format .mp4
Resolution 1080p HD (1920 x 1080)
Encoding h.264
Framerates per second up to, but no more than 30 FPS (We recommend as close to 30 FPS as possible)

Instructions for transferring the video file to UGIC will be sent to you after you contact Mellissa.

You will be asked to include a paragraph describing your presentation, along with the presentation title, presenter's name, and video runtime in your submittal.
What about UGIC 2021?

UGIC 2021 will still be held in May 2021, and it will most likely be held in Bryce Canyon, with many of the same activities and events that we originally had planned for this year. Since we will have an extra year to plan it, it will be the best conference ever!
I'd really prefer to give the presentation I signed up for at a live conference. Can I just wait until UGIC 2021 to give it?

Absolutely! Just let Mellissa Campbell (mcampbell@springville.org) know that is your plan. It is likely you'll have to re-submit your abstract when registration for UGIC 2021 opens early next year.
Once again, I have important questions about all of this and you did not provide the right answers.

We will continue to release more details as we get closer to the conference dates. In the meantime, please feel free to contact Kasey Hansen (khansen@jub.com), Dave Henrie (davidh@utahcounty.gov) or any other UGIC board member with questions.  As a reminder for advance planning, UGIC 2021 will be in Bryce Canyon May 3-7, 2021.  Thanks!
Again, we apologize for this additional change and the inconvenience associated with it. However, we are looking forward to an amazing virtual event this Fall and our best conference ever next Spring.  Please contact the UGIC board with any questions you have, and thank you all so much for your continued support of UGIC!