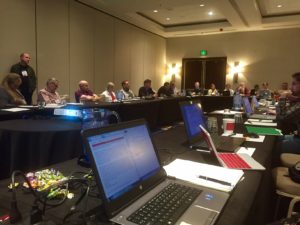 Annapolis, MD: Josh Groeneveld and Kasey Hansen (UGIC Board Members)

The National States Geographic Information Council (NSGIC) held its Midyear Meeting in Annapolis, MD from February 27th – March 2nd.  Representatives from 27 states and the District of Columbia were in attendance to collaborate, share best practices and learn about the latest geospatial advancements, particularly in the federal space.  
NSGIC promotes the philosophy of "make it once, use it a bunch".  There is so much value to all involved in terms of time and effort saved if we can share existing solutions and best practices.  When we have to explain what GIS is to a non-professional, we often hear things like, "Hasn't everything already been mapped?"  
Not at all!  It was apparent at the Midyear Meeting that there are still challenges creating data in a timely fashion and sharing it with stakeholders across all levels of government. Many national data programs have been implemented for the purpose of addressing these challenges. For first-timers at NSGIC, the sheer number of programs can feel a little overwhelming (not to mention the abundance of federal acronyms!), however the purpose and goal of each program was discussed thoroughly at the meeting.  Even so, while many GIS professionals may be willing to share data, some are under legal constraints to not share data because of privacy concerns.  There are also concerns of some "shared" datasets where the authoritative agency can submit their data into a database and then never see the resulting product.  Some of the hot-button topics at the meeting were Next-Generation 911, the USGS 3D Elevation Program (3DEP), open data, and the GIS Inventory.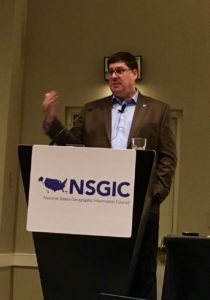 One of the other themes of the Midyear Meeting is that now is a fun time to be involved in the geospatial space.  New advances in machine learning, artificial intelligence and drones are allowing agencies to capture more information than what was thought possible even a few years ago.  There is potential of future technology to create dispatchable locations in multi-story buildings so that first responders can know the floor and the room of the person in need before they arrive.  There are also advancements in LiDAR that can allow for high-density point cloud collections over large areas, and visualizing these large datasets is getting easier, too.
As a collection of states, NSGIC members have seen time and again that a best practice in one state may not be as effective or even possible in another.  This year, Utah's Bert Granberg is serving as NSGIC President.  He led a session exploring the challenges of creating statewide datasets from local rollups.  He presented survey results that showed that states are not all in the same place in terms of dataset creation and maintenance.  Still, there was a strong sense among the members in attendance that working together puts everyone on the same path of creating and maintaining quality datasets so that all of our many customers the right information they need when they need it.
In the end, NSGIC attendees concluded the meeting with a very positive outlook. In particular, it was refreshing to see so many representatives from states all around the country coming together to discuss the issues that affect us all and find the best solutions. Though there are still challenges ahead, it would seem the future looks very bright for the geospatial industry, and the opportunities going forward will be many.