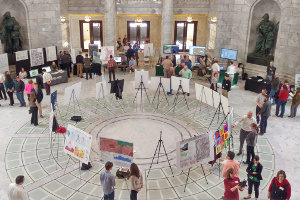 Maps on the Hill 2018
The 7th Annual Maps on the Hill event, supported by the Utah Geographic Information Council (UGIC) and AGRC, will be held on January 30, 2018 from 7 AM – 10 AM*. This event is an excellent opportunity for students and professionals to share maps, mapping tools, and mapping projects with elected officials, fellow practitioners, and the public. This year's theme is "GIS for Better Decisions". We hope to highlight how GIS improves quality of life, increases understanding of the world, and brings better results to each of our organizations.
This year will again feature a competition, with a three-judge panel comprised of Utah leaders and decision makers awarding honors to the best map displays. Bring your best and leave with a framed certificate, bragging rights, and some GIS books!
Who should participate: Individuals: Anybody who makes a map through their work or education.
Organizations: An organization that has worked on multiple mapping projects.
Display Types: You can present hardcopy maps, interactive digital maps (you'll need to provide a means to show it on a computer or monitor), or both. UGIC can provide electrical outlets (extension cords), tables, and easels, although bringing your own easel is encouraged, if possible. You can request these items on the registration form. We can direct you to an inexpensive resource for printing and mounting your map on a foamboard if you don't have the tools to do it yourself.
The focus of the event is interesting maps or map technology projects that are applicable to a wide audience. While displays can be on any appropriate topic, presentations that may be of interest to decision makers are strongly encouraged. Marketing of specific products and services is discouraged.
Registration has closed.
Mapbook:
For the past several Maps on the Hill events, Mapbooks were made to showcase all of the map entries (see past Mapbooks here). The book has always been a great example of the interesting maps created and used in Utah. More information on the Mapbook will be sent to registrants as the event approaches.
The Mapbook includes a short narrative/summary to accompany your map. These narratives are meant to communicate the benefits of GIS in language legislators and other leaders understand. Focus on end results and functional benefits rather than technical minutiae, jargon, and terms of art. Quantitative metrics, if available, are especially beneficial for communicating value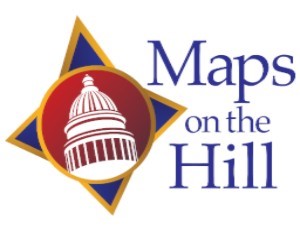 Questions? Contact Joseph Rhodes at info@ugic.org or 512-294-3639.
* Please note the timing of this years event!  It will be held from 7 AM-10 AM, with setup at 6 AM,  with a wrap-up session from 10-noon in the state office building auditorium.