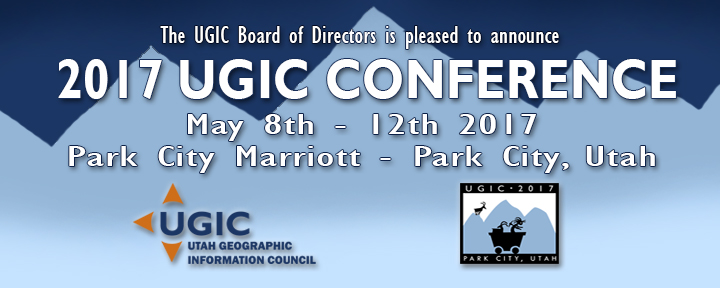 The UGIC Board of Directors is pleased to announce that the 2017 UGIC conference will be held from May 10-12, 2017, with pre-conference training May 8-9, at the Park City Marriott Hotel in Park City, Utah.  The Park City Marriott is a modern,  beautiful and comfortable venue that is well equipped to serve the needs of the premiere geospatial conference in Utah.  Historically the UGIC conference has been an incredible value for attendees who need to maximize every training dollar, and this year will be no exception.
---
---
GENERAL CONFERENCE INFORMATION
Cost: Conference registration is $345.
Lodging: The UGIC Board has negotiated a very reasonable accommodations rate of $118 per night at the Park City Marriott.
Lodging Reservation Method:  Individual call-in 1-435-649-2900 or click here for online reservations.  Individuals are encouraged to identify themselves as part of the group block (UGIC) to receive the discounted rate. The rate is good until April 16, 2017, so please make your reservations before that date in order to receive the conference rate. 
Meals:
Pre-Conference Training Meals:  Lunch and breaks are included in the pre-conference training prices for full-day workshops.
Conference Meals:  Lunch and breaks (morning/afternoon) are included Wednesday through Friday. In addition, there will be a vendor social on Wednesday evening with appetizers / finger -food and a dinner followed by a city walking ghost tour on Thursday evening. Both evening events are optional but are included with registration.
Other:
Map Gallery Information (5 new categories this year!)
Carpooling (Signup for, or volunteer to drive, a carpool)


---

PRE-CONFERENCE TRAINING MAY 8 – 9, 2017

Click here for full descriptions

Monday, May 8 Full Day Workshops:

Getting the Most out of ArcGIS Online (Esri)

Practical Applications of Python (UGIC)

Introduction to Unmanned Aerial Systems (Drones) (UGIC)

OPUS-Projects GPS Official Workshop (NGS) (Half day Monday, Full day Tuesday)

Tuesday, May 9 Full Day Workshops:

AppStudio for ArcGIS (Esri)

ArcGIS Pro (Esri)

Beginning Web GIS Application Programming (UGIC)

Incident Command System and Emergency Management for GIS (UGIC)
*Signup for pre-conference training during conference registration.
---