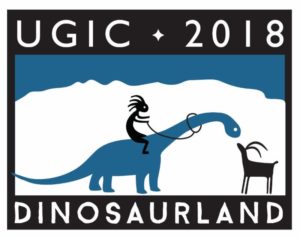 TRAIN FOR YOUR UAS FAA PART 107 KNOWLEDGE TEST AT THE 2018 UGIC CONFERENCE IN VERNAL
ONLY 20 SEATS AVAILABLE
$300
TEACHER AND STUDENT DISCOUNTS AVAILABLE1
The Utah State University Aviation Program, Utah Geographic Information Council, UtahView, and the Utah State University Remote Sensing/GIS Laboratory are excited to present a two-day INTENSIVE continuing education course that will cover basic knowledge requirements to successfully complete the FAA Part 107 Knowledge Test2.
Using the ASA Test Preparation 2018 Remote Pilot Manual, USU Aviation Program instructors will cover topics including flight and ground safety, regulations, weather, national airspace, waivers, and FAA rules.
The course will be held on May 7th and 8th, as a pre-conference workshop to the annual 2018 UGIC Conference in Uintah Convention Center in Vernal, Utah.
The course will be uniquely structured to allow students access to instructors and to interact with other students for up to six weeks through the USU Canvas online course system. Additional study sessions may be scheduled after the two-day course to help students prepare for their exam. The exam must be completed in order to receive continuing education credit.
Do I need to be a member of UGIC or register for the whole conference?
No! While we would love it if you were a member of UGIC (www.ugic.org) and were registered for the conference, you don't have to do either. You can register to take the pre-conference training only. Select the Drone Part 107 – Intensive Training Course (USU) course at registration.
Don't miss this amazing opportunity to up your UAS game! Sign up today!
1 Teachers and Students can receive a $150 discount. Only 10 discounts are available. Teachers, fill out this form (http://bit.ly/TeacherUGIC)  to check eligibility and apply for your discount. Students, fill out this form (http://bit.ly/StudentUGIC) to verify eligibility and apply for your discount.
2 The FAA Part 107 Knowledge Test will NOT be given as part of this course. Each student is required to schedule and complete the exam at a certified FAA testing center within five weeks. The costs associated with this course do not cover the cost of the FAA Part 107 Knowledge Test.
Questions? Contact Chris McGinty at chris.mcginty@usu.edu