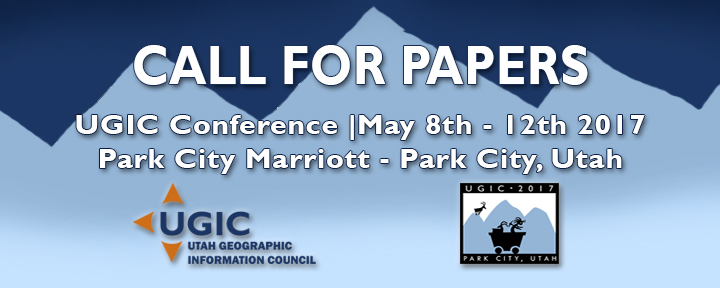 ---
Utah Geographic Information Council (UGIC) is now accepting abstract submissions for breakout presentations at the 2017 UGIC Conference. We are proud of the excellent work being done by geospatial professionals in Utah. The UGIC Conference provides an excellent venue  to tell your story. Your content doesn't have to be ground breaking work and you don't have to be a polished presenter.  This is a conference of laid-back geo-geeks happy to be away from their office for a few days.
The strength of our grassroots GIS organizations is found in users helping users as we all become better at what we do. We would like to hear from a variety of colleagues: public and private sectors, tribal, federal, state, and local governments, educators, managers, innovators, beginners, students, experts, and everywhere in between. We want to hear from YOU!
Everyone is busy and nobody loves public speaking, but sharing your work with the community is worthwhile both for you and for all UGIC members.  All of us can think of a time where a conference presentation gave us a great idea or a new perspective on our work.  So please make the sacrifice to prepare somthing to share with your friends a UGIC.  Especially if you have never presented before!

Types of Presentations
5-10 minute 'micro-talks'
20-minute breakout sessions
40-minute breakout sessions
90-minute workshops
Conference Tracks
3D Mapping and Planning
Asset Management
Cartography
Coding, Scripting and Automation
Conservation
Emergency Management
Innovation
LiDAR and Remote Sensing
Local Government
GIS and Engineering
GIS and Surveying
GIS for Beginners
GIS for Education
GIS for Managers
Policy
Tips, Tricks and Overlooked Features
Vendor Showcase
Web Based GIS
Other
Abstract Submission Guidelines
Author(s) / Presenter(s) Names
Brief Bio of the Presenter(s)
Presentation Title
Presentation Length (micro, 20, 40, 90 minute)
Presentation Abstract (Brief description of presentation)
Keywords or Tags
Track Preference
Any Special Accommodations Needed
Preferred Schedule
Thanks!
UGIC Board